AJ Smith
Executive Director & Chief Executive Officer
AJ Smith is a founding shareholder of TradeWindow and has been the CEO from the company's inception in 2018 building on a track record of innovation and investment in successful rapid-growth companies including MediFin, GreenFin and Bonds Africa (South Africa) and Commonwealth Finance Group (Switzerland). With a strong belief in building high-performance teams, AJ is an active executive member of the Young Presidents Organisation.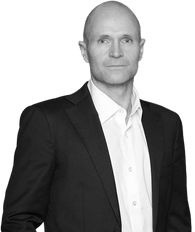 Andrew Balgarnie
Chief Strategy Officer
Andrew is an experienced business strategist, deal maker, and problem solver. His background is in planning, strategy, corporate finance and consultancy. He has a proven track record for delivering complex transactions including the procurement of NBN Co's satellite network. Andrew has a Bachelor of Business Studies in Accounting from Massey University and an MBA from the Australian Graduate School of Management.
Deidre Campbell
Chief Financial Officer
Deirdre joined TradeWindow in February 2020. Prior to this, she was Group CFO of Methven Limited. Deidre has extensive experience in leading and building teams, policy and processes in finance and governance to support and enable business through NZX listing, mergers and acquisitions and international growth. Deirdre holds a Bachelor of Accounting from Auckland University of Technology and Wintec – Waikato Institute of Technology. She is also a member of the Chartered Accountants Australia and New Zealand.
Kerry Friend
Executive Director
Kerry has three decades of financial management experience. He started his career with EY Wellington before following a career across Asia primarily in the media and entertainment sector. Kerry has previously held senior finance positions with Take-Two Interactive Software (Singapore), Jupiter TV (Japan), Bloomberg (Japan) and News Corporation (Japan).
Dr Guy Kloss
Chief Technology Officer
Guy is an enterprise architect, computer scientist, chemical engineer, rocket scientist and thought leader in data security. He has applied his unique skillset across a diverse range of organisations including Bayer, the German Aerospace Centre, Mega, Qrious, Gentrack and Nyriad. Guy has a MEng in Chemical Engineering and a PhD in Computer Science from Massey University.
Dewald Janse van Rensburg
Chief Legal Officer
Dewald is a lawyer with more than 20 years' experience in corporate and commercial law. Prior to joining TradeWindow in December 2019, Dewald worked as Registrar at a South African university where he oversaw governance and compliance for more than 40 institutional committees. He has served as Director on various Boards and has a BProc and an LLM in International Corporate Finance Law, and is currently pursuing a Doctorate in Business Administration.
Dr Andy Standley
Head of Project Management & Onboarding Operations
Andy is an experienced IT project manager with a proven record of managing projects from concept to completion. He is skilled at managing cross-functional teams on large complex projects including an industry-wide, single trade window project with global supply chain consultancy, B2BE. Andy has an MSc in Atmospheric Sciences and Meteorology and a PhD in Satellite Remote Sensing – Climatology from the University of Bristol in the UK.
Katie Stubbs
Head of People & Culture
Katie is a human resources leader with a compelling track record of helping to build high performing teams and ensuring human resources compliance. Katie is skilled in identifying and developing talent, having worked for multinationals across Australia and New Zealand. Katie most recently provided professional consulting services as part of her own business before joining TradeWindow. Katie holds a Post Graduate Certificate in Management from Macquarie Graduate School of Management in Sydney and a Bachelor of Arts (Business Psychology) from Massey University in Auckland.
Adrian Collier
Chief Product & Supply Chain Officer
Adrian has strategic, commercial and operational experience in leadership roles covering health, pharmaceuticals, manufacturing, retail, renewable energy and international trade. Managed major programmes of work, product launches, organisational change and growth initiatives in New Zealand and internationally.