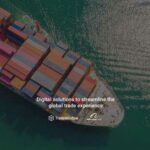 Global B2B Insights Webinar
TradeWindow Secures U.S. Footprint With FoodChain ID Agreement
NSW Wine – Telling The Story Of The Region's Wines
Today's resellers and consumers demand greater transparency and digital-age convenience from the brands they choose. Producers and exporters alike are looking to engage their customers digitally by instantly connecting buyers to the information they need to make more informed purchasing decisions.

About New South Wales Wine
The New South Wales Wine Industry Association (NSWWIA) is the peak body representing the NSW Wine industry, formed in 1994 at the request of the NSW State Government. They act as an advocate and conduit between industry and the New South Wales Government and the 16 NSW wine regions, as well as representing the New South Wales wine industry at a Federal level with national industry bodies such as Wine Australia and Australian Grape & Wine.
The Challenge
NSW Wine winery members needed a way to showcase their portfolio in a way they could tell unique stories behind the wine, direct core messaging to targeted end-users, and also have the options of traceability and counterfeit elimination.
The Solution
The TradeWindow Assure+ solution helped exporters digitally optimise how information is collected and shared across their value chains. The 'catalogue' function of TradeWindow Assure+ allowed event organisers to select the wines they'd like to showcase at an event and make them instantly available via a unique QR Code. Wine producers control precisely what information they would like to make available and retain full control of the brand experience. Wineries control the brand, narrative and level of transparency. 
The Benefits
Evidence-based storytelling proving sustainability

Counterfeiting detection and fraud protection

Immersive connected tasting events

Digital service and customer engagement transformation

Integrated digital certificates of origin, organics etc.
"We were really pleased with how we were able use Assure+ in the practical application of presenting wines to trade. It added an additional dimension to the tastings, providing easy access to deeper information about products via QR code to the catalogue. We were able to provide better opportunity to connect directly to the winery and a lasting post-event resource for the tasting attendees. Ease of use was a core requirement, and the interface is smooth and intuitive." 

— Darren Oemcke, Director of Hydra Consulting
With TradeWindow Assure+, supply chain partners and consumers have direct access to a range of mobile-first services which makes getting to any questions fast and efficient. Allows producers and exporters alike to engage their customers digitally by instantly connecting buyers to the information they need to make more informed purchasing decisions.
Region-Specific Content
NSW Wine was able to onboard 17 wineries onto the Assure+ platform in a matter of days and create its first industry event catalogue in a few seconds. Behind the scenes, the platform ensures product information is presented in the user's chosen language and that any region-specific content is displayed accordingly.
Tell The True Story
TradeWindow Assure+ is helping NSW Wine members to tell a more comprehensive and engaging product story to their trade buyers, in a way that meets the digital expectations of the premium brands that NSW Wine represents.
MOBILISED TASKS
◉ Goods-In/Out Inspections
◉ Quality Assurance
◉ Testing and Compliance Record Sharing
TradeWindow Assure+ Capabilities Used
◉ Supply chain traceability
◉ Anti-counterfeiting
◉ Digital Labels
◉ FS1 – Field Services Mobile Application
◉ Reporting & Analytics
TradeWindow Assure+ is an affordable traceability solution for businesses of any size.
International exporters, specialty producers and quality manufacturers use TradeWindow Assure+ to make collecting and sharing information across supply chains easier. Winners of the 2022 WISA Wine Industry Impact Awards. Getting started is easy.